What Landscape Pros Need to Know About Propane Lawn Mowers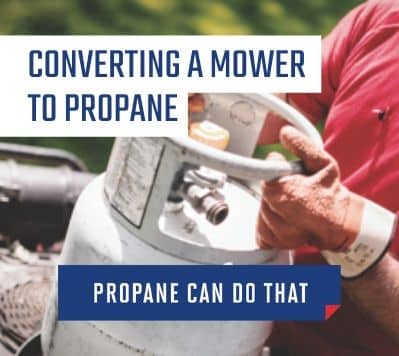 For landscape professionals, green is the most important color. Not only do you want to keep your lawns green, but you want to keep some green in your pocket as well. Propane can be the solution, as propane-powered mowers are cleaner and more efficient than traditional gas – or diesel-powered engines. Even if you can't invest in new equipment, you can still reap the benefits of propane power.
Lawnmowers can be converted to run on propane. All it takes is a propane conversion kit and minor fabrication to accommodate the fuel cylinder. Kits must be EPA and CARB certified, and they are available through manufacturers such as Propane Power Systems, LLC, Lehr EnviroGard, and Alliance Small Engines. These manufacturers offer kits for several different lawn mower and motor brands, including Gravely, John Deere, Kawasaki, Honda, Briggs and Stratton and others. In addition, these companies offer training and certification for installing conversion kits, so it can be done properly and safely. They provide propane engines to original equipment manufacturers, and conversion kits to certified dealers. OEM dealers can install the conversion kits, and you can get back to work.
Propane conversion kits carry a manufacturer's warranty, and have been developed to meet strict EPA standards. They are also tested for performance so they will operate as well or better than a gasoline engine. Propane engines do not lose any power, so you will see the same results with less cost.
Converting to propane helps mowers run cleaner and more efficiently, while saving on fuel and maintenance costs. Propane is typically 30-40% cheaper than gasoline, which can add up to thousands of dollars in savings over the growing season. Propane will also help lower emissions, helping your company to be more environmentally friendly and leaving a greener carbon footprint. Plus, refueling a propane engine is as easy as replacing a fuel cylinder, so there is a much lower risk of theft or spillage.
These are just a few of the reasons why converting lawn mowers to propane can be a great option for your landscape business. If you need another reason, there are now incentives available for converting to propane or purchasing new propane-powered mowers. Through MOPERC's LEAF incentive program, landscape companies can receive $1,000 for purchasing a new propane powered mower, or $500 for converting a gas powered mower to propane with an approved conversion kit.
Learn more about propane mowers and available rebates.